SUNSETVIEW BEACH RESORT
Panibatuhan, Morong, Bataan, Philippines
Mobile Numbers:
0916-303-2535
0917-724-4153
0933-359-9923
Timing:7:00 AM to 7:00 PM
Tel. No.: (045) 888-3000 (Landline - Office)
Email Addresses:
[email protected] [email protected]


SUNSETVIEW BEACH RESORT
Angeles City Office
Apo Street Cor. McArthur Hi-Way,
Sto. Domingo, Angeles City
Philippines
Tel.No.: (045) 888-3000(Landline)

For inquiries and reservation you may contact our Resort Reception through the above Mobile/Telephone Numbers or Email Addresses or just simply fill out the form below:
TRAVEL GUIDE


Click ROUTE below to View & Print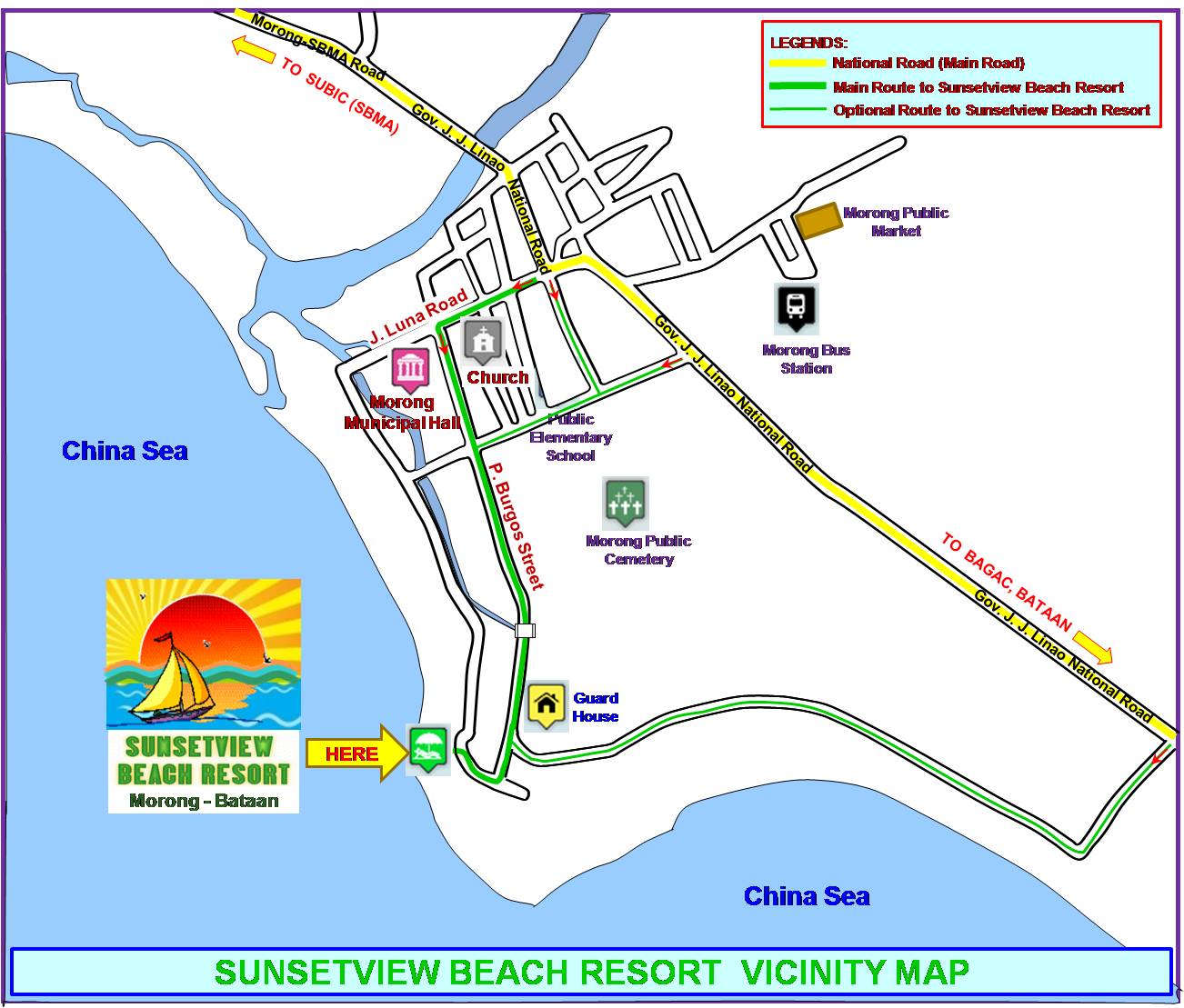 OUR LOCATION - HOW TO GET HERE
Because of its inter-connection and accessibility to main thoroughfares, getting to Morong, Bataan is easy, so take a drive for the weekend or long holiday or special occasion. There are three major routes going to Morong, Bataan if you are coming from Manila:
Route 1 - via NLEX, Gapan-Olongapo Road, Layak Junction and Tipo
Hi-Way Junction to SBMA Morong Gate


Route 2 - via NLEX and SCTex to SBMA Morong Gate


Route 3 - via NLEX, Gapan-Olongapo Road, Layak Junction, Junctions to
Balanga, Mt. Samat, Dambana ng Kagitingan and Bagac Junction.
So, if you are coming either from the Northern Luzon or from the busy Metro- Manila, go easy on the gas pedal while driving and enjoy the ride gazing the vivid scenes of the rice fields and the mountainous view while traversing the first-class Subic-Clark & Tarlac Expressway (SCTex) via SBMA Morong Gate. Travelling via Route 1, you will be able to get a chance to have a glimpse or side-trip to well-known tourist attractions along the way, like the historical Dambana ng Kagitingan-Mount Samat, Corregidor plus the mothballed Bataan Nuclear Power Plant.
MAP & ROUTES
View Larger Map
SUNSETVIEW BEACH RESORT - Morong, Bataan, Philippines
Contact Nos.: 0916-303-2535 | 0917-724-4153 | 0933-359-9923 | (045) 888-3000 (Landline-Office)
Email Addresses: [email protected] | [email protected]